4èmes Légufrufolies, Ermont, 3 et 4 octobre 2009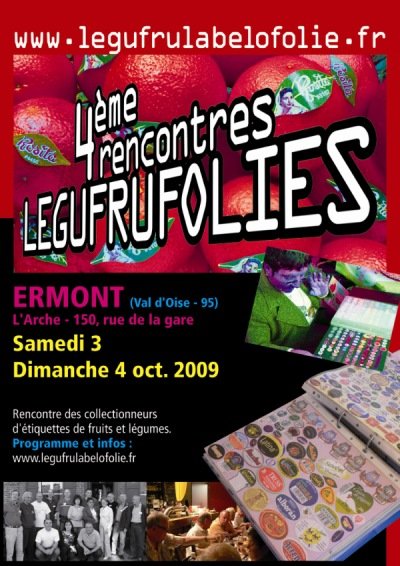 Version Française

The first meeting took place in 2006 for half a day, the second in 2007 for one day, the third in 2008 spanned two days and the fourth meeting in 2009 began on Friday. Welcome to Ermont (Val d'Oise) for a journey into the heart of the fourth légufrufolies.

Friday, oktober 2 :

The American Airlines Flight No. 42 from Chicago landed at the Charles de Gaulle airport at 8:50 A.M . Laurence and Didier (holding an American flag in hand for this occasion), greeted the American king of mangoes and papayas, Wojciech SLUSAREK. It was a great joy for them to host the American collector who crossed the Atlantic specifically to meet his European collecting friends.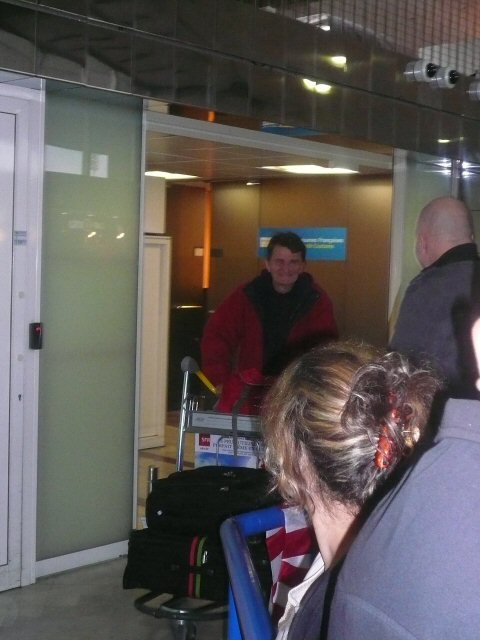 Although tired, he accompanied us throughout the day in preparations with Denise and Gerard BEIX who were, for the purpose of this meeting, our representatives and local organizers. It is also thanks to their dynamism and enthusiasm that we could find the beautiful hall called the Ark, located close to the Town Council at 150, rue de la Gare. The first delegates arrived at 6 P.M. (Xavier and Elvira of Belgium, Maryvonne and Marcel) and thanks to Laurence's initiative we went to the esplanade of the Champs de Mars for a picnic under the lights of the Eiffel Tower, joined later by Gabriel who came from Niort.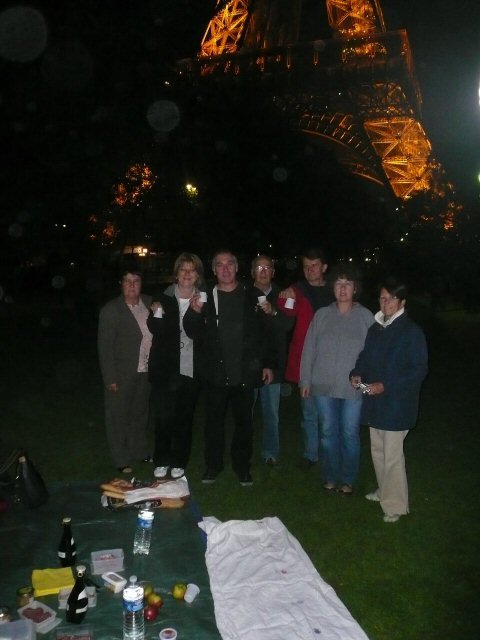 Saturday, oktober 3 :

Starting at 10 A.M., the five organizers (Laurence, Denise, Gérard, Gabriel, and Didier) were hard at work and full of energy to arrange the hall, set tables, chairs, decoration and signage.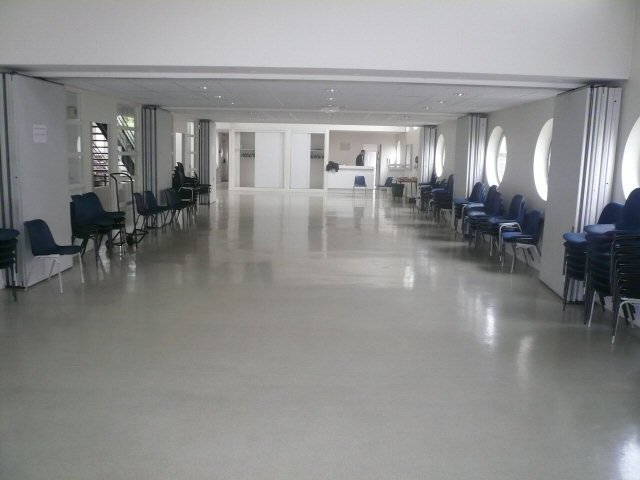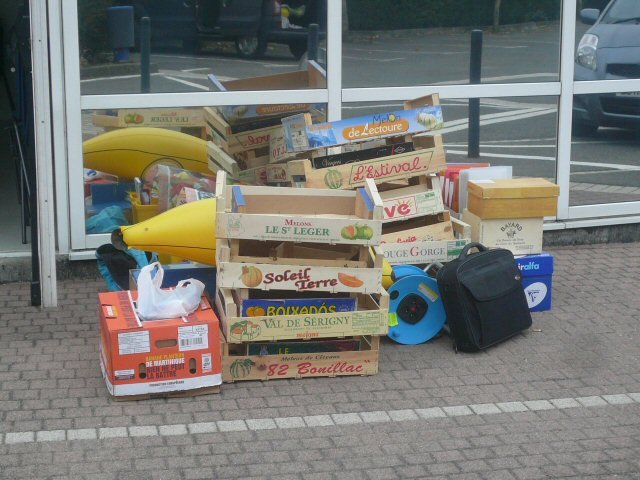 Beginning at 11 A.M, the enrolled participants started arriving in a great demonstration of joy. An impromptu meal was held in a corner of the hall under the auspices of a local pizzeria.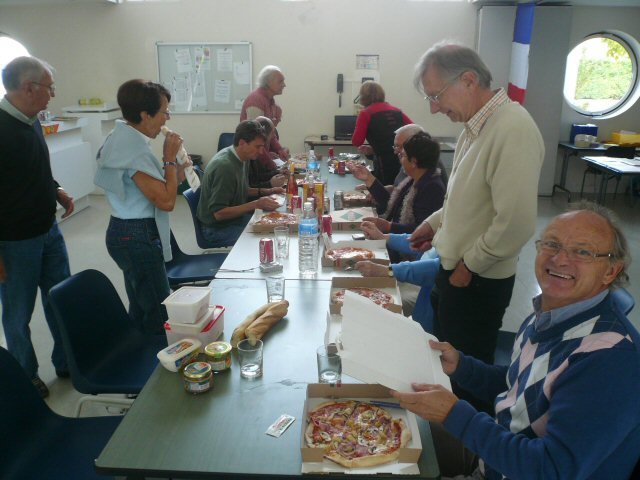 The meeting was officially opened at 2 P.M. with the traditional bilingual introduction in French by Didier and in English by Gabriel who spoke the language perfectly. Meanwhile Laurence pinned the badges and thankfully no injuries were reported during this dangerous exercise.

For their first participation :

– Jean-Noel DUPONT, collector of fruit wrappers, his friend Francine from Belgium, and their dog Pomme. – Monique LEQUY and her husband Gérard – Colette Luery, the Empress of French melons – Eugene Verdood and his wife Suzy who makes the best French fries in Liege – Wojciech-SLUSAREK, the American king of mangoes, from the United States (1 cent to be mailed to me)

For their second participation :

– Hans-Peter STEPPEN, Germany
– Nikolaus BIESENKAMP, Germany
– Nico VERSCHUREN, Netherlands
– Xavier Heyte from Belgium and, for the first time, his friend Elvira from Madrid (Spain)
– Daniel LABROUE
– Rony WOUTERS from Belgium
– Gerard BEIX and his wife Denise, the local representatives of the 4th stage of the « Légufrutour ».


For their third participation :

– Maryvonne MIRANDA, who battles hard to regain her world championship, and her husband Marcel

For their fourth participation :

– Laurence LELOUP
– Gabriel GIRAUDEAU
– Didier SALAMON, the pioneering team


The unexpected arrival of two collectors, known but unregistered, was a pleasant surprise ; they decided to show up unannounced and were still able to enjoy all the privileges of registered participants :

– Jeannine AUBRIET and her husband Jean-Jacques
– Jean-Pierre BERNARD


Evelyne FLORENT, a repented collector , has participated for two days at the meeting, with her hands tied behind her back to prevent a possible relapse. Two years ago, before the second meeting, she gave her collection to the founders of the site. She will be happy in the future to pick up labels for her new friends.
The following collectors were absent but otherwise excused: Alain SQUADRELLI, Michel SIX, Michel HAINAUT, Bernard Charpentier, Carole Loison, Justine LEMONTAGNER, Darrell and Jenny Myers (USA), David KVASNICKA (Czech Republic), Premek Andrys (Czech Republic), Rebecca Martz (USA) who gave Wojciech some balloons to be blown up, Carl Sikora (USA), Olga Sokolova (Russia), Joan WEINMAYER (USA), Gustavo VEZOZI (Italy).
The publicity surrounding this event (posters, press - both hobby-oriented and local - and illuminated signs in the city) has attracted about forty curious visitors and among them collectors including :

– Jean-Claude Debergue collector of wrappers and his wife Michèle – Jean-Pierre Camus, an enthusiast who lives in EAUBONNE and is already known to some participants.

It is noteworthy that a gentleman came to us and got so wrapped up in the wrappers collection of Jean-Noel that he left with few examples to begin a collection.
Throughout the afternoon there reigned an intense activity around the tables where we saw the binders frantically changing hands, all done in English, French, German and Flemish.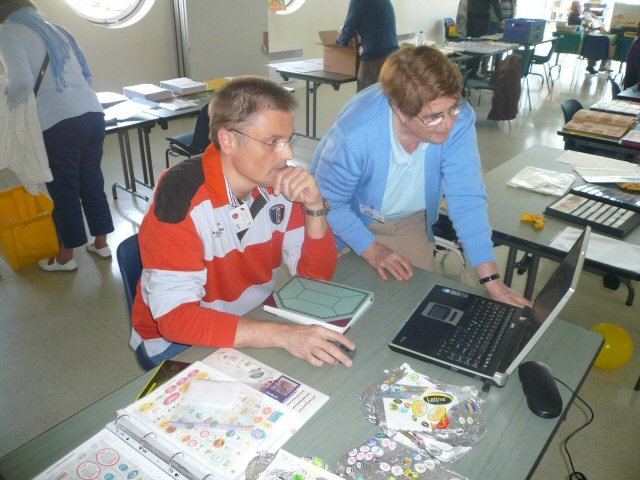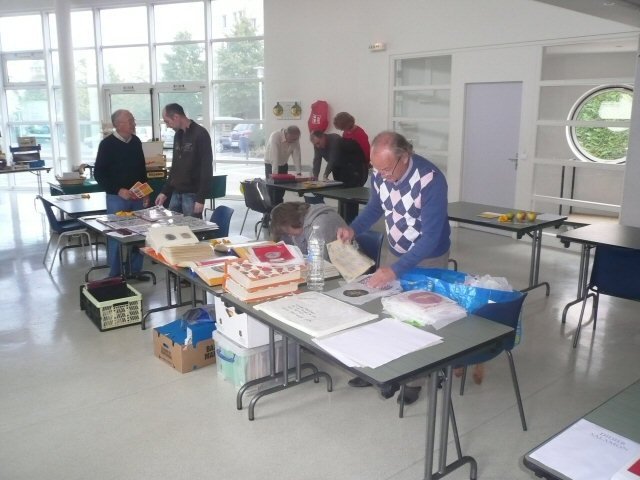 At 4 P.M. the temperatures of bodies and brains rose dangerously and the firemen had to intervene to announce a break for taking a group photo and to propose watching a short film about the manufacture of labels and labeling of fruits. (thanks to the Euro-Label 06).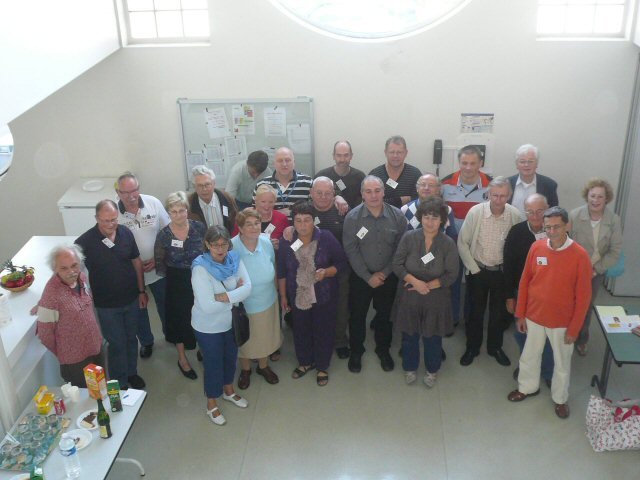 From left to right : Rony WOUTERS, Nico VERSCHUREN, Hans Peter STEPPEN, Monique LEQUY, Gérard LEQUY, Evelyne FLORENT, Colette LUERY, Wojciech SLUSAREK, Janine AUBRIET, Didier SALAMON, Maryvonne MIRANDA, Marcel MIRANDA, Gabriel GIRAUDEAU, Xavier HEYTE, Eugène VERDOOD, Laurence LELOUP, Jean-Noël DUPONT, Nick BIESENBAMP, Daniel LABROUE, Jean-Claude DEBERGUE, Gérard BEIX, Jean-Pierre BERNARD, Michèle DEBERGUE

Another essential step began at 7:30 P.M. with aperitifs and the meal around a tempting buffet. As Didier pointed in his speech, to talk about the exchange is to associate the collection and the human element. It is also the ideal way to foster the integration of new collectors and their wives. Laurence and Didier, known for their wild imagination, hand-decorated a set of personalized glasses that were given to participants as souvenirs.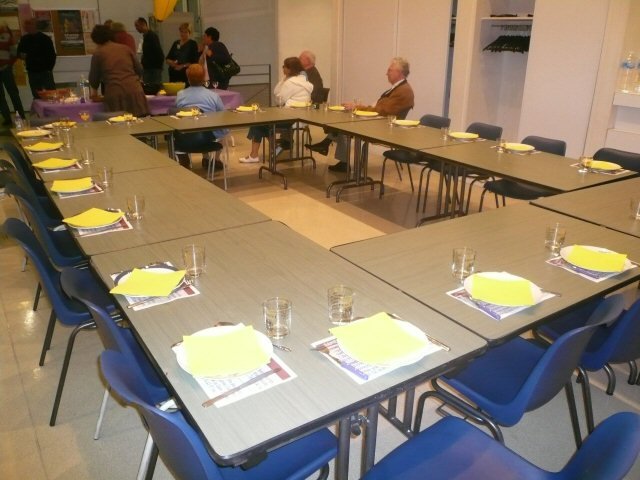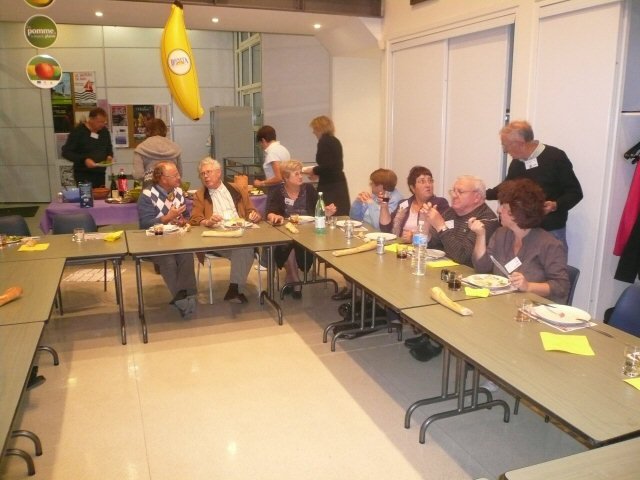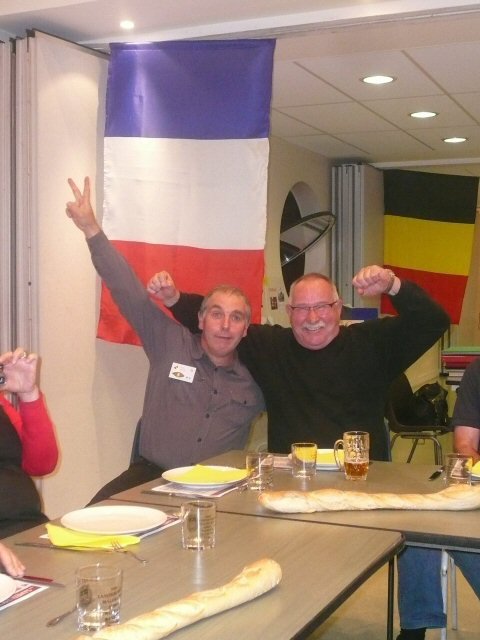 The arrival of a security guard at 11 P.M. reminded everyone that the celebration of the White Night in Paris meant lights out in Ermont. It was nevertheless necessary to extract some collectors from the hall because they refused to leave it voluntarily. Because a GPS in a Belgian car was set to Brussels, a couple of drivers had to make dramatic detours before returning to the hotel in HERBLAY.

Sunday, oktober 4:

The resumption of discussions was sounded at 10 o'clock and there was not a single latecomer. Closed to the public, the hall resembled a studious classroom where there is a surprising calm with the wake-like level of animation.
During this time, and since Saturday, a jury composed of spouses and chaired by Denise, studied the collections presented. This was done with the utmost seriousness so that even its originally most reluctant members, joined the jury duty wholeheartedly.






At noon, after the distribution of diplomas to all participants, Denise announce the results. Three prizes were awarded to the accompaniment of screams, applause and the barking of the dog :

– The most beautiful collection : Daniel LABROUE – The most beautiful presentation: Jean-Noël Dupont (Belgium) – For the favorable impression award, the jury, unable to decide between candidates, presented two awards to tie Rony Wouters (Belgium) and Wojciech SLUSAREK (USA).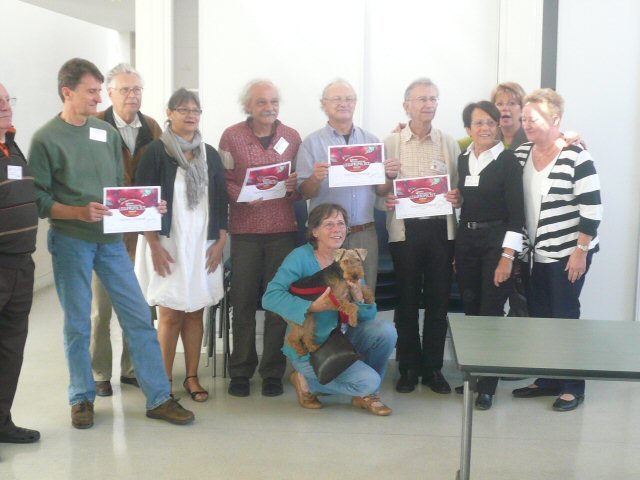 Photographs of delegations under their national flag :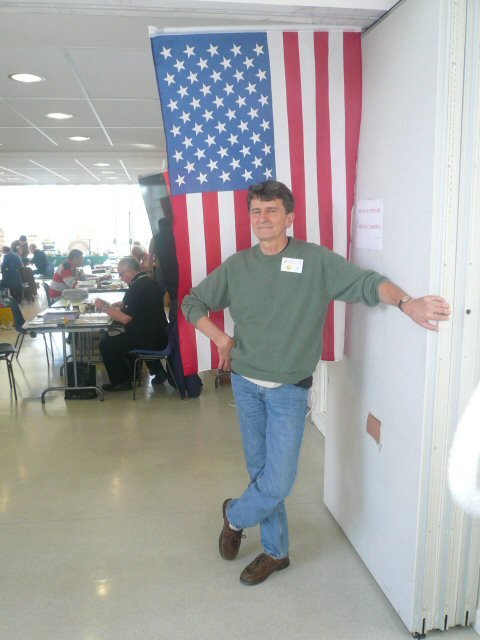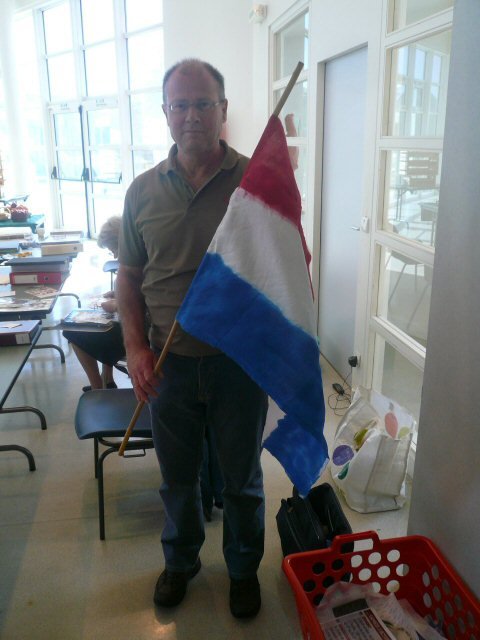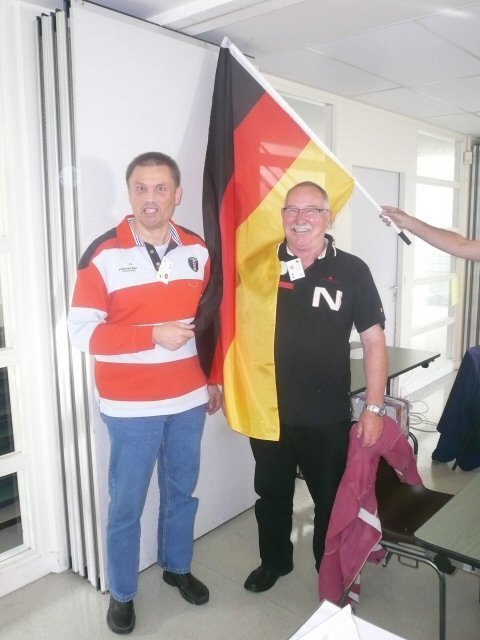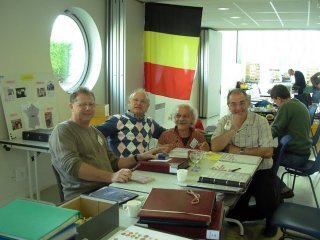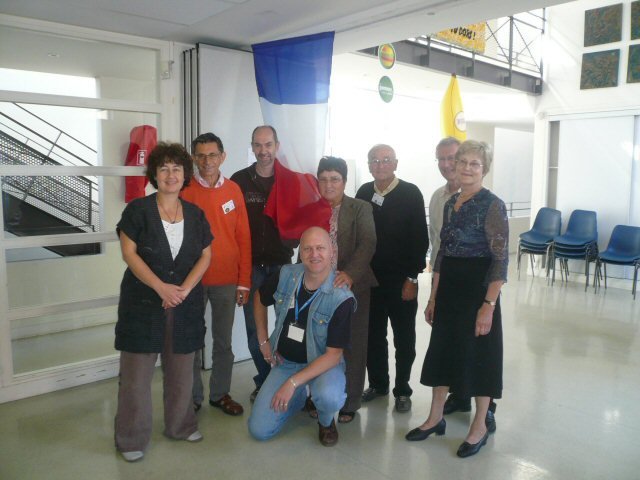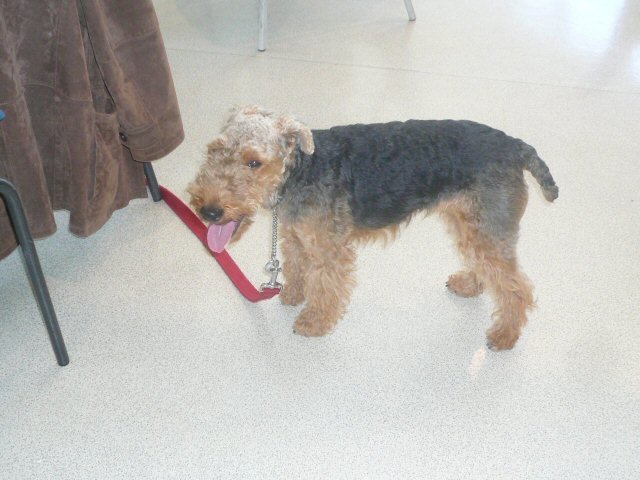 These two days have passed too quickly and the first departures soon thinned our group. Those living the farthest hit the road first: our German friends Nick and Hans-Peter for Krefeld, Daniel for Toulouse, Jean-Noel and Francine for Belgium. Despite all this, the survivors proceeded together, in good spirits, to a Chinese restaurant in downtown Ermont.

We bid our final goodbyes in front of the restaurant feeling pinching in our hearts, masked by hugs and kisses of friendship. The last courageous survivors returned to the hall to complete the cleaning and at 4:10 P.M. the group was finally dissolved with a feeling of great emptiness that suddenly came upon us.

In the view of all messages sent and confirmed, this fourth meeting was exciting, rewarding and touching. As Xavier wrote in the Golden Book of our site upon his arrival back home to Namur, "we felt that we have participated in something great." Collecting, which sometimes allows us to smile, will help us over the years to expand the circle of friends across borders and the inevitable language barriers which fade each time a little more. Man alone is nothing. But together, as a group, we experience an increasing feeling that we are becoming a family .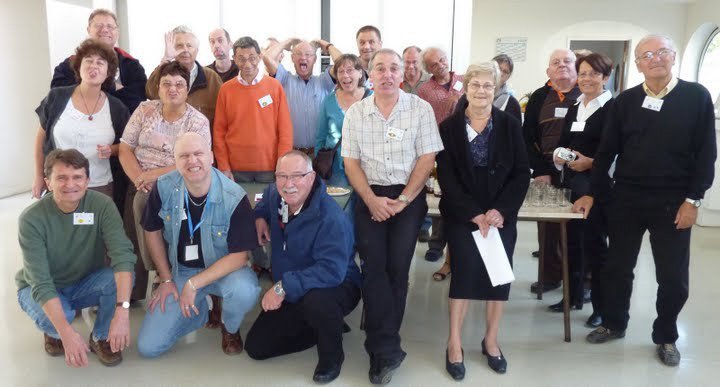 Some more pictures :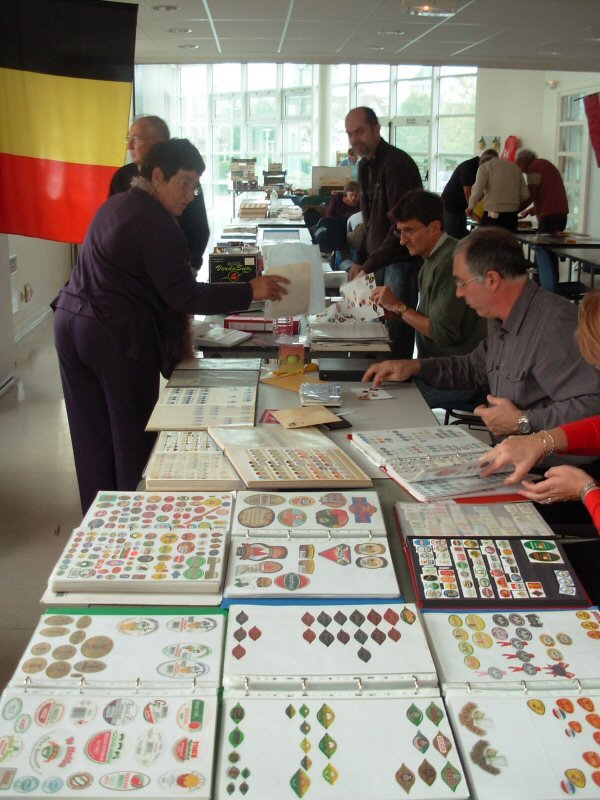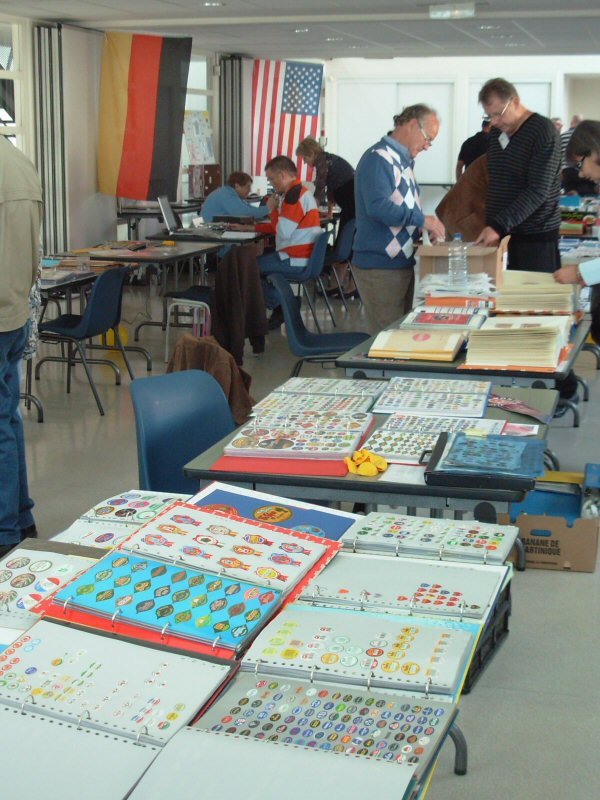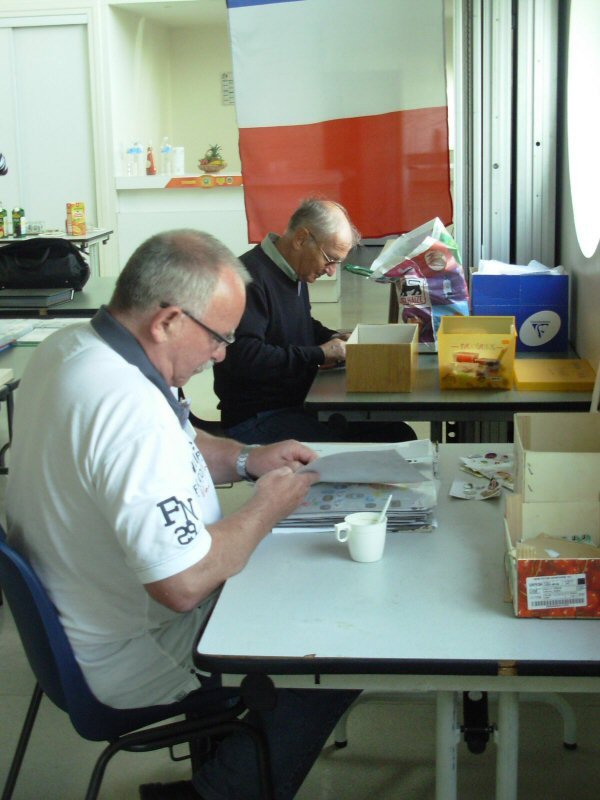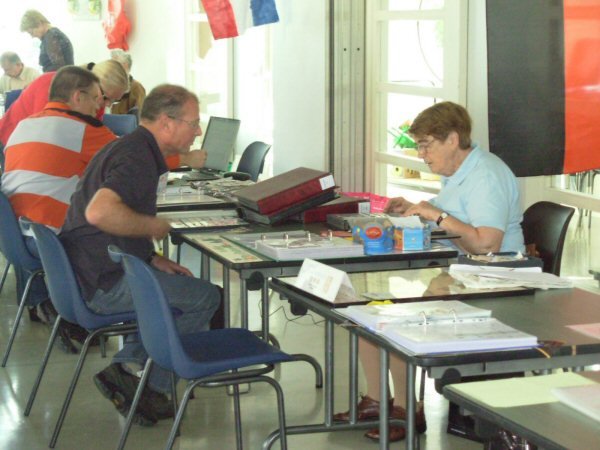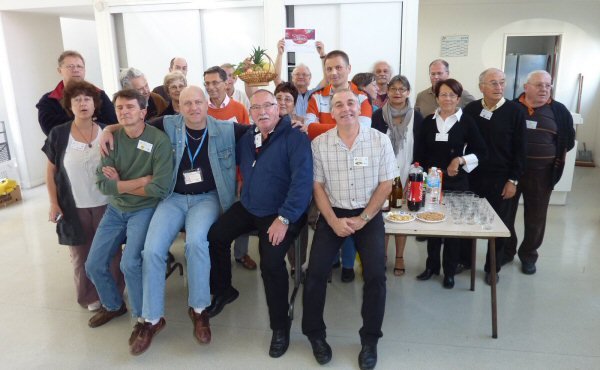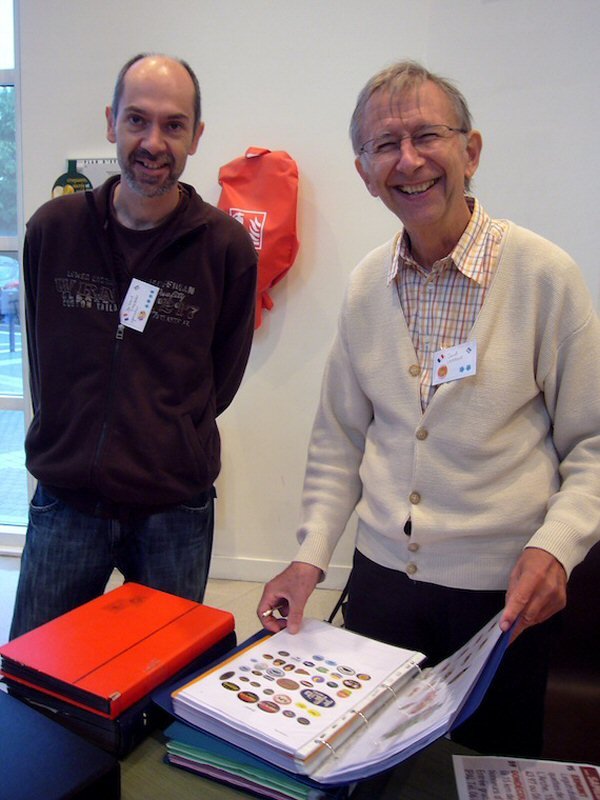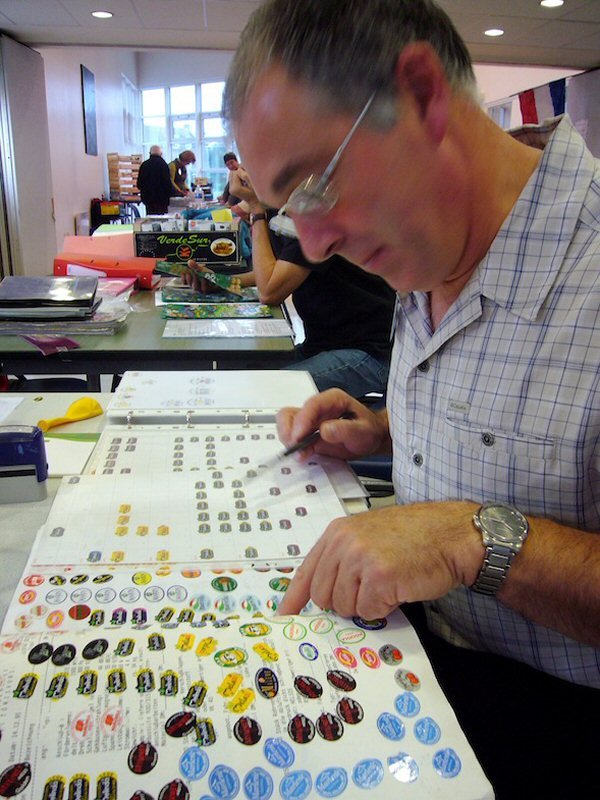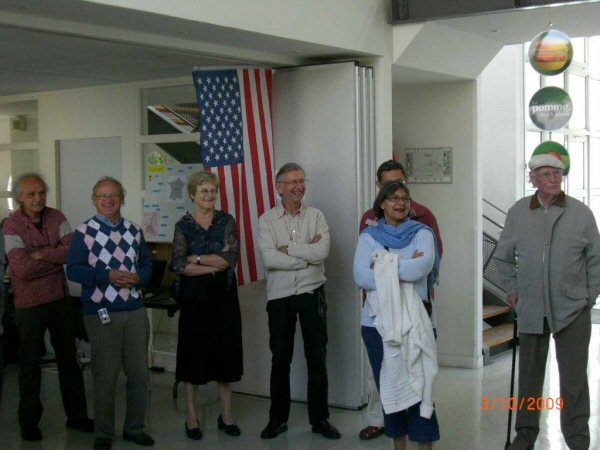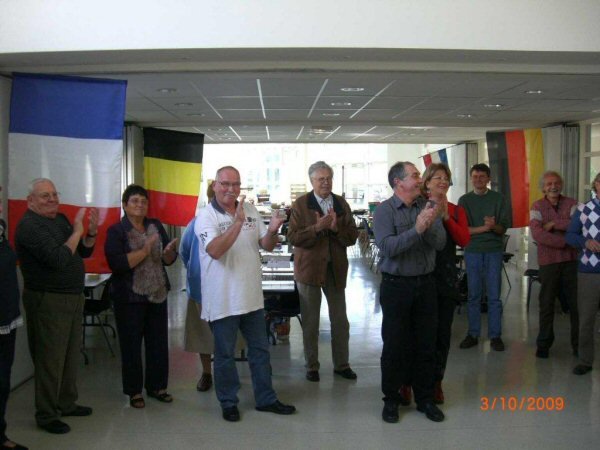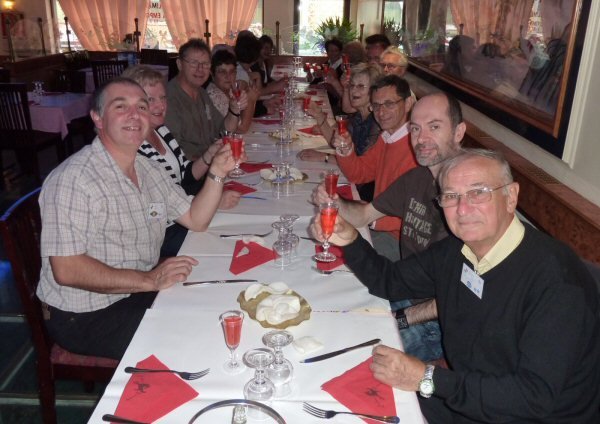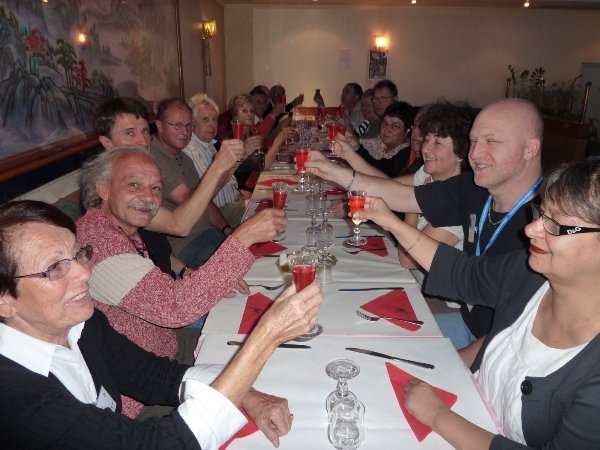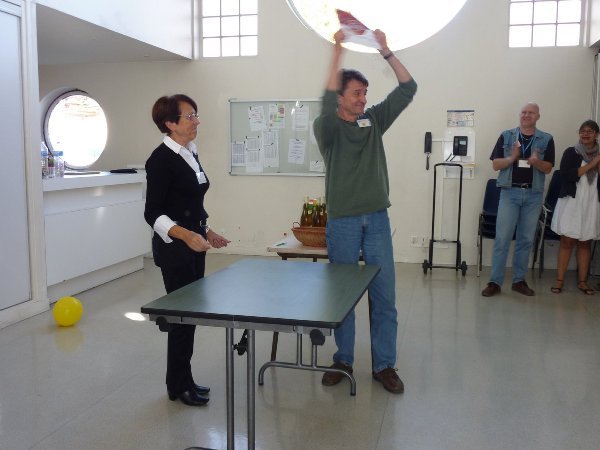 ---