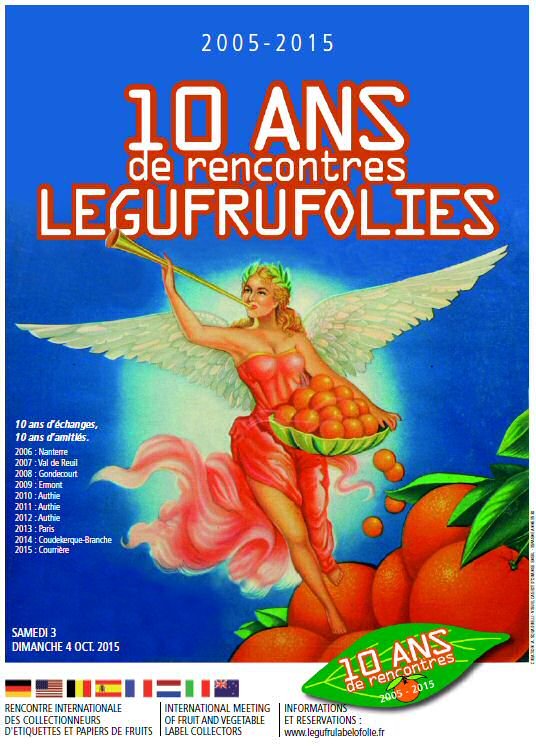 Version Française
October 3rd and 4th, 2015 marked the date when a group of crazy collectors of labels and fruit wrappers gathered in Belgium for their tenth meeting. Celebrating a decade of existence, this successful great adventure started in 2006 in Nanterre and the party organized for the occasion was worthy of the event.
We are inviting you for a trip, using text and images, to make you experience for the first time or to relive our tenth meeting.
Fifteen collectors honored us with their presence:

Our local organizers:
Deborah WATHELET
and her parents Véronique and Pierre (Belgium), 5th participation

Élodie DEMARETZ
(France), 3rd participation, organizer of the 9th meeting in COUDEKERQUE-BRANCH, accompanied by her parents Dorothée and Jean-François

Antoine BIWER
(France) 4th participation,10 years old, accompanied by his mother Isabelle

Xavier HEYTE
(Belgium), 8th participation

Moniek BUCQUOYE
(Belgium), 3rd participation

Marie-Madeleine MURINGER
(France), 2nd participation, accompanied by Jean-Paul

Natalie VANDAMME
(Belgium), first participation

Gérard BEIX
(France), 8th participation, organizer of the 4th meeting in ERMONT

John VAN DROOGENBROECK
(Belgium) 2th participation

Gérard BEEKEMA
(Netherlands), 3rd participation

Henri DEROUIN
(Canada), first participation, accompanied by his wife Diane

Jean-Pierre BERNARD
(France), 7th participation

Mario GANDINI
(Italy), 2nd participation, accompanied by his wife Nadia

J-Gabriel GIRAUDEAU
, (France) Founder

Didier SALAMON
, (France) Founder
Saturday afternoon, we had a visitor,
Marie CLAUS
living close to Courrières, in Bousval. She read an article in the July-August 2013 issue of the "Maison Creative" magazine that talked about our annual meetings. By visiting our website, she became aware of our meeting this year. Being a collector of citrus wrappers for about 3 years, she was happy to go back home with a nice bunch of wrappers, formed in part by a donation of Pascal CASSON who could not make the trip. But before she left, she signed up for her membership in our website.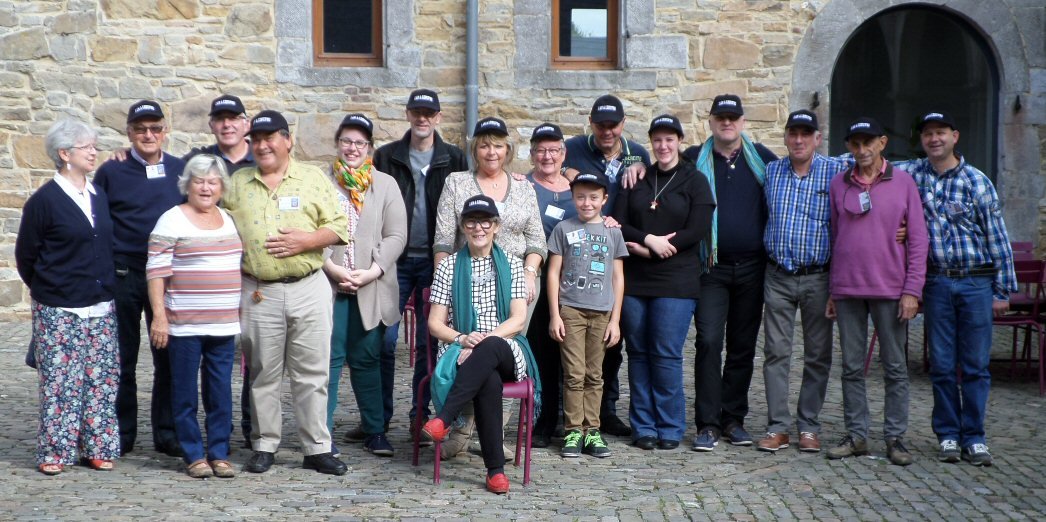 From left to right : Marie CLAUS, Gérard BEIX, Diane DEROUIN, Xavier HEYTE, Henri DEROUIN, Elodie DEMARETZ, J-Gabriel GIRAUDEAU, Moniek BUCQUOYE, Natalie VANDAMME, Marie-Madeleine MURINGER, Antoine BIWER, Marco GANDINI, Déborah WATHELET, Didier SALAMON, John VAN DROOGENBROECK, Jean-Pierre BERNARD, Gerard BEEKEMA

Highlights of the meeting:

For the first time a foreign country, Belgium, a geographical crossroads, was selected to attract more collectors

The venue, the castle of Courrières, built in 1622, a beautifully restored building with new and functional infrastructure

The enthusiasm and hospitality of the organizers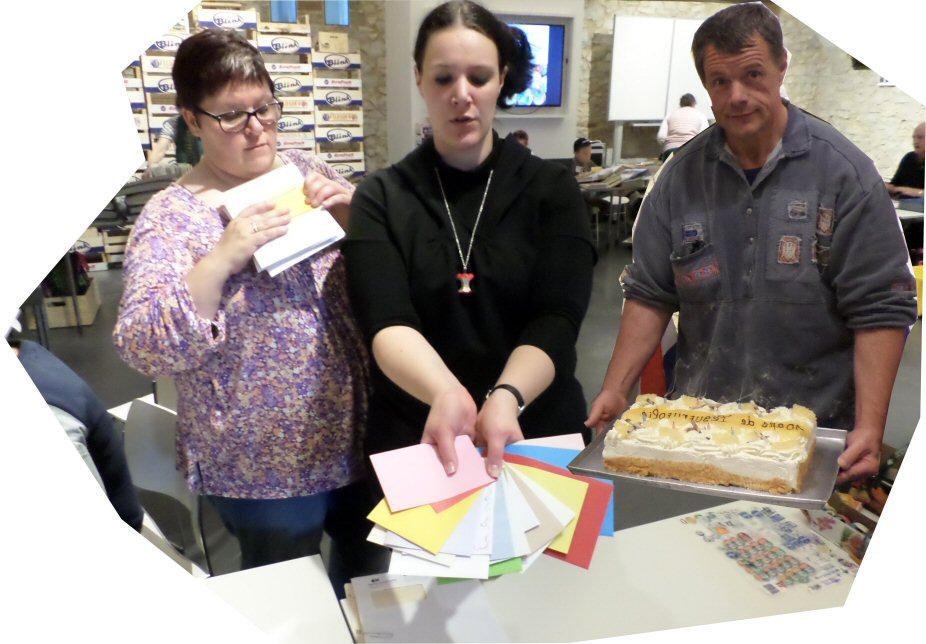 The presence of two new collectors, a Canadian who crossed the Atlantic, and a Belgian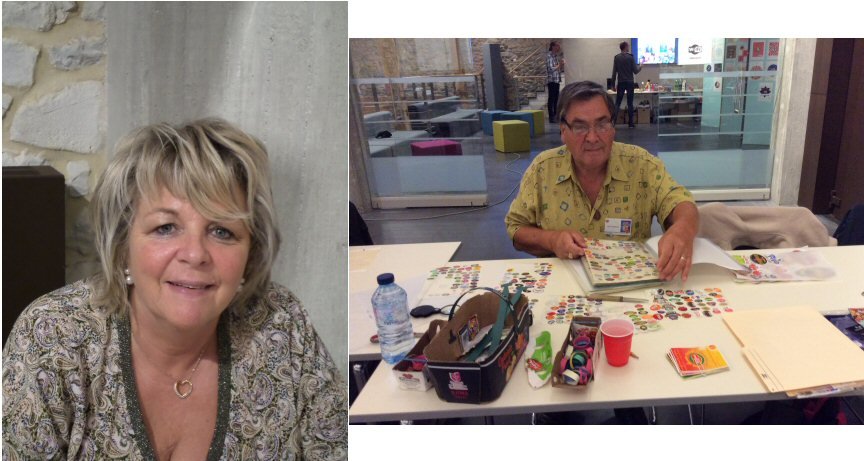 The pleasure to meet again, because in addition to collecting, it is sheer pleasure and friendship that brought us together today

Exceptional activities Sunday morning

A fruit wrappers exhibition world tour of 45 countries on 5 continents

The very mild weather

The defeat of the England team that faced Australia in the rugby world cup
Weak points:

The desertion of too many collectors, including many true friends (see the conclusion at the end of publication)

Traffic on the Belgian highways, roadworks, traffic jams, bad roads
Saturday, October 3, 2015
Beginning at 9:30 AM, the first collectors who hadn't arrived the day before, showed up and took their places with Moniek BUCQUOYE closing the parade in the late morning.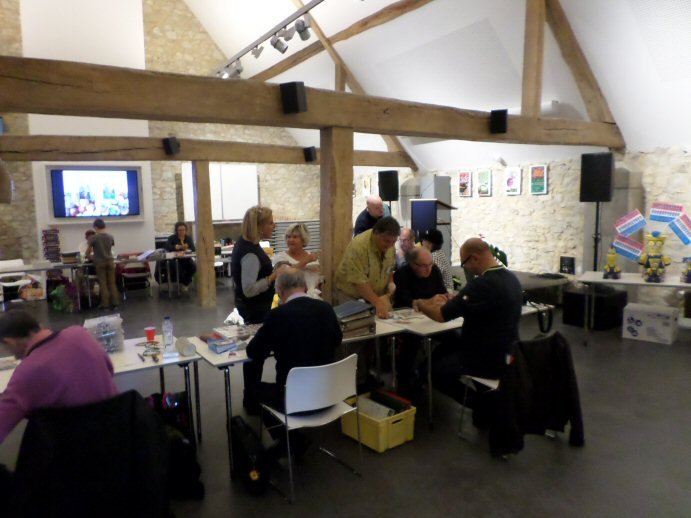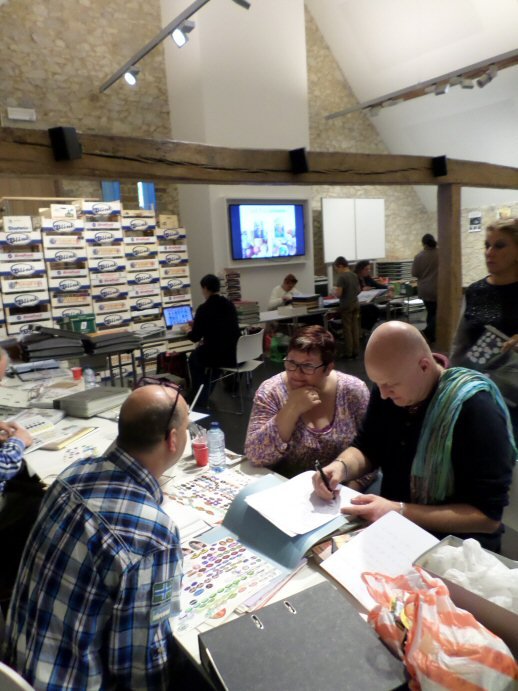 It has now become a tradition that Saturday is devoted exclusively to trade, speeches, presentations of diplomas and taking group photographs. Transactions between collectors were numerous and of high quality and our Canadian friend Henri DEROUIN, who thought himself alone in the world as a label collector, amassed a stunning collection of European labels, hard to find in his country.
By mid-afternoon, the organizers surprised the two founders, presenting them with two beautiful cakes decorated with 10 candles that Didier and Jean-Gabriel blew out with great emotion.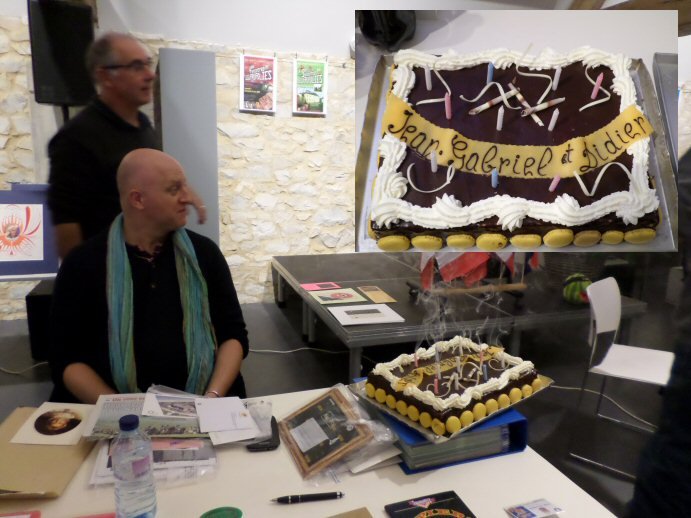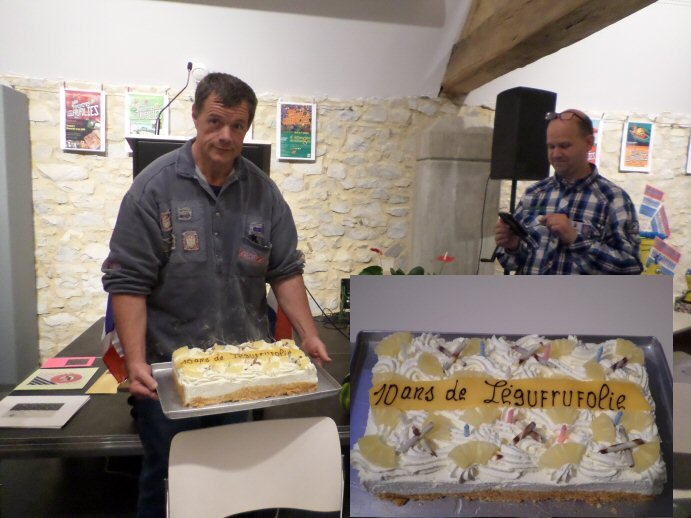 Three collectors presented their original artworks: Gérard BEEKEMA, Moniek BUQUOYE et Élodie DESMARETZ.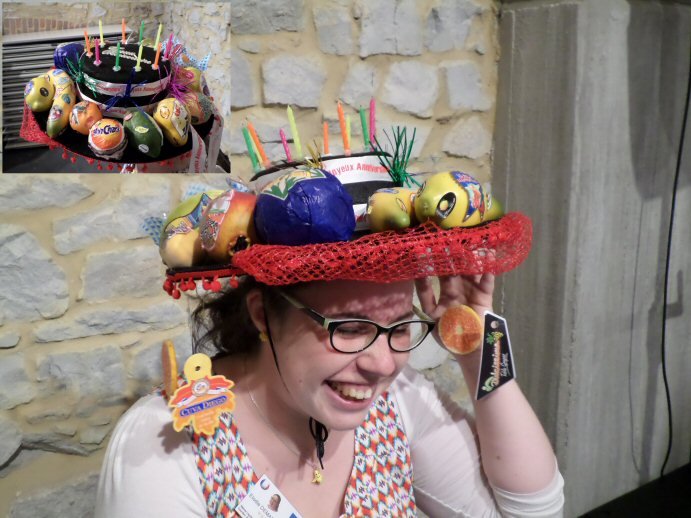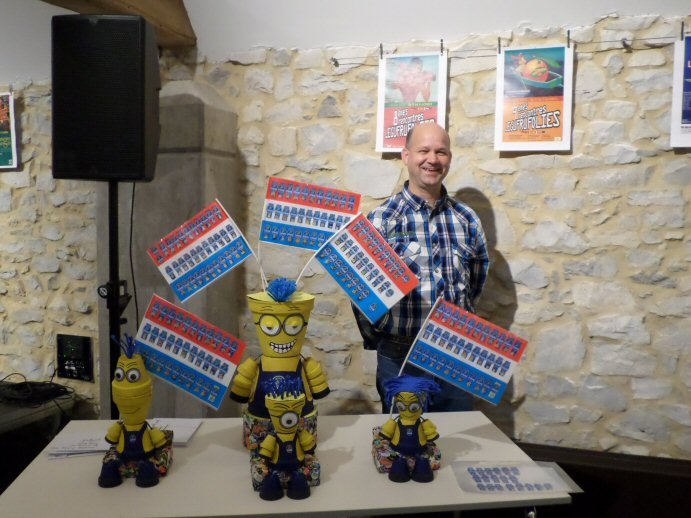 The winner of the contest organized on the home page of the site, John VAN DROOGENBROCK, received his prize, a bunch of labels.
During this day, Didier SALAMON conducted interviews with participants that can be read at the end of this publication.
The exchanges continued after the evening meal with Henri DEROUIN being one of the last to leave the room.
Some rugby fans watched the England-Australia match that ended in the elimination of the host country, England, to the delight of Tintin, Didier and Jean-Gabriel.
Sunday, October 4, 2015
This has now become a tradition that Sunday morning is spent on cultural activities to abandon the hardcore collecting for a bit.
For the 10th meeting, the menu offered was exceptional.

A hot air balloon flight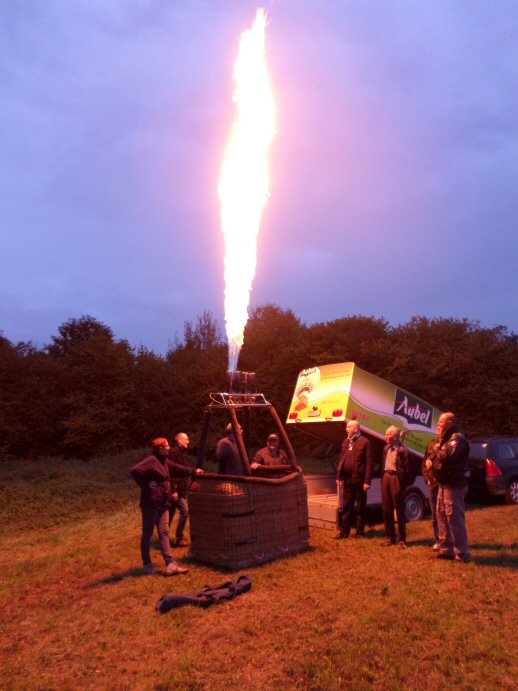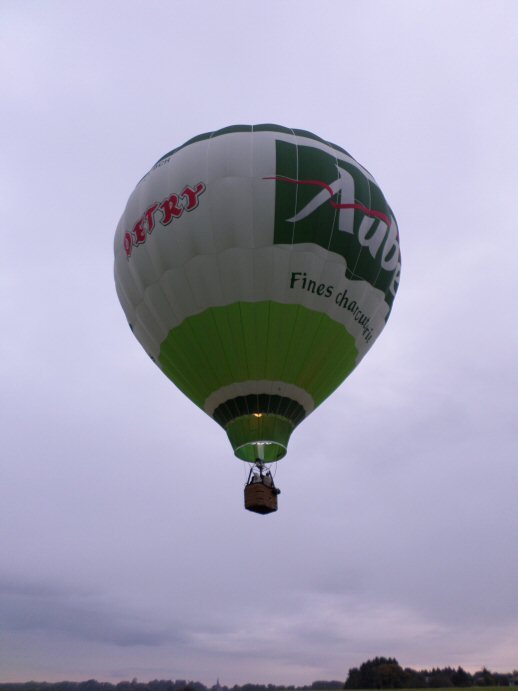 Xavier HEYTE, who lives in Namur, is a passionate and experienced pilot who at the conclusion of the 9th meeting proposed to offer a balloon flight to three collectors the following year. Unfortunately, the only time that the meteorological forecast called for the weather to be just average was on Sunday morning! After some very legitimate and understandable hesitations because of safety concerns, Xavier decided to fly. It was an opportunity for collectors to assist at those long and careful preparations before seeing the balloon fly.
The lucky balloon passengers were selected as follows:
- First place was offered to the winner of the online contest. Since John VAN DROOGENBROECK was unable to attend the Sunday morning gathering, his place went to Marco GANDINI who from now on will travel from Italy every year!
- Second place was offered by the organizers to Henri DEROUIN to thank him for his presence and his arrival from Canada.
- Last place was raffled among the three participants in the original work of art contest and it was Moniek Bucquoye who has been designated by the little innocent hand of Antoine.
A light rain began to fall soon after takeoff so the flight was cut short by Xavier. But it was long enough (25 minutes) to give the selected lucky ones long-lasting and beautiful memories.

Presentation of birds of prey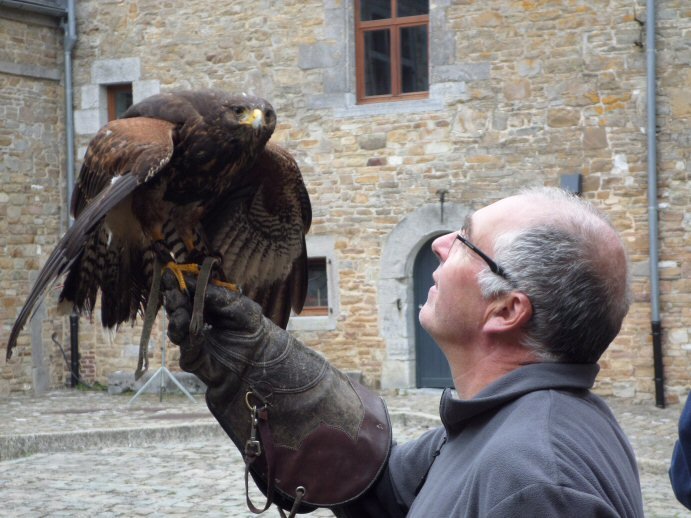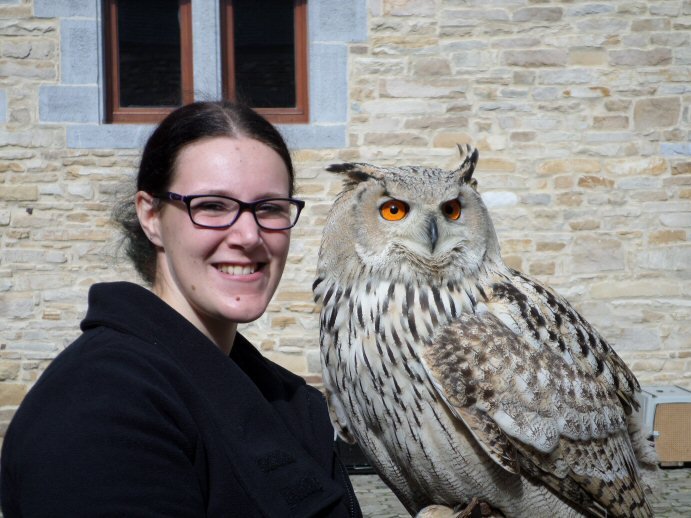 The second activity was a fascinating presentation of birds of prey, the passion and now job of Deborah. For an hour and a half, we were able to approach different birds and assist in several flights where spectators, to their greatest joy, played an active role.
These two original activities marked splendidly the end of our 10th meeting. During an aperitif celebrated in the courtyard of the castle, under the sun that returned, the participants were able to show to our organizers, all their joy and satisfaction with this beautiful Belgian weekend.
After Sunday lunch there was, as always, a little touchy moment of saying goodbyes, though sweetened with a thought of meeting again for 11th Légufrufolies.
With the 10 year cycle already behind us, the founders decided in give it a rest in 2016 and change the meeting calendar.
We will meet again:

at the invitation of the mother of Antoine BIWER, our youngest participant, and partner of Xavier, our Belgian balloonist.
Interviews
Nous vous proposons ci-dessous les interviews réalisées durant la rencontre. (Cliquer sur les noms)
A lighthearted moment among friends
The tenth meeting of label and fruit wrapper collectors marks the end of a cycle. Ten years of life of a small association that in reality is not one, it is a success. During this decade we promoted great meetings, visited various regions and thanks to our local correspondents we could bask in the warmth of friendship and conviviality. We could also raise awareness of this amazing and original passion.
This anniversary should constitute, in the spirit of the founders and organizers, a meeting that exceeds all others by:
- The choice of a new country, for the first time in Belgium,
- The exceptional location in the beautiful castle of Courrières, built in 1622, fully restored and offering amenities and logistics of high quality,
- - The passion and energy deployed by three Belgian friends who, since 2013, carried this project in their heads. Déborah, Véronique and Pierre WATHELET have spared neither their efforts nor their time to make this event a reference point among the other 9 events
- From the organizational point of view, the two exceptional Sunday morning activities, i.e. hot air ballooning and falconry, have enhanced the uniqueness of the 10th meeting even more.
This was to be a big beautiful birthday party ...
We just forgot one thing ... to have a party requires to have organizers (they were present) but above all of the participants.
The choice of Belgium, the crossroads of many countries since 2008, should enable the Belgians, the Dutch, the Germans and the French, to come in droves. But it is clear that even our most loyal supporters and friends have sadly failed us. The original enthusiasm shown with the announcement of the scheduled anniversary meeting after Coudekerque-Branche has given way, for some, to cruel and incomprehensible silence.
Similarly, some last minute cancellations, giving excuses more or less justified, put our Belgian organizers in a difficult position. We must not forget that organizing a meeting requires material resources in infrastructure and logistics. There are then, inevitably, financial consequences that can only be resolved using personal funds of our Belgian organizers.
Everyone can argue his or her case citing money, date, location, lack of time, etc. etc. However, from one year to another, the date is known so successful planning is possible as some could get here. Then finding a last-minute excuse for not coming is not very fair to those who devote themselves, body and soul, to the organization because under the circumstances we are not talking about just any meeting, we are talking about the tenth. We were sincerely hoping to have over thirty collectors for the investment to be profitable.
We know that these words will not please everyone but we take full responsibility for them because it is only the truth that hurts. Even our small world of collectors has become a selfish and passive consumer behind a computer screen in front of a wonderful program available for free. Because, if indeed the site, developed by Jean-Gabriel is a great tool, it will never replace a handshake, a smile, a conversation, laughter, sharing a good meal and a good glass of wine.
Déborah, Véronique and Pierre were legitimately very disappointed and dejected as they felt abandoned. But they did nothing wrong because they made those who participated happy.
"The absent is always wrong" as the saying goes. This is even more true for the 10th meeting.
Didier and Gabriel, founders.